Put on hold four years ago, the construction site of Laval's aquatic complex finally came back to life during the summer.
"I'm happy to see that the site teams are mobilized and that the work is going well so that this structuring project can finally materialize," said Mayor of Laval Stéphane Boyer in a press release published yesterday.
Boyer specifies that "in a little over two years, Laval will have high-level and unique facilities on the north shore that will serve both the needs of the community and the ambitions of the aquatic environment".
If everything goes as planned, that infrastructure, which stands on the land north of the Cosmodome, could be inaugurated at the end of 2024.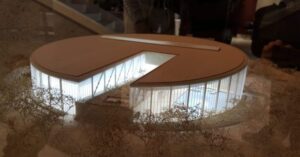 $125M
Only bidder in the running, Quebec's giant Pomerleau was awarded the design-build contract last winter for $108.4 million.
Taking into account the sums already invested in 2018, so before putting on hold the project, the bill increases to $125 million.
It will be remembered that on this date, four years ago, the City of Laval cancelled the call for tenders due to bids exceeding by almost 50 per cent the construction costs, then estimated at $61 million.
At the time, the municipal administration attributed this cost overrun to an overheated construction market. Then, there was the labor shortage that hit the industry, and a significant rise in the cost of raw materials, contributing to further increase the bill.
For the construction of that equipment, Laval has already received $20 million, funded equally by the two higher levels of government. Quebec and Ottawa made the announcement in June 2021.
Facilities
The aquatic complex, which keeps its initial design, will include:
a recreational pool with 3 swimming lanes;
a beach entrance and a large slide;
a 52m × 25m pool with a bridge and a removable floor;
a diving pool with 1m, 3m, 5m and 7.5m springboards and a 10m tower;
a multifunctional training room;
a fitness room;
multipurpose rooms;
fixed stands with 500 seats.
The capacity will be 875 bathers and 500 spectators, the aquatic complex being built to host provincial and national competitions.
translated by Alec Brideau