A new Maxi officially opened in Laval yesterday, as major multi-million dollar renovations saw the conversion of the old Provigo into this new store, on René-Laennec Boulevard.
The management and presidency of that new Maxi was there to officialize the opening. A photo with ribbon cutting to immortalize everything also took place.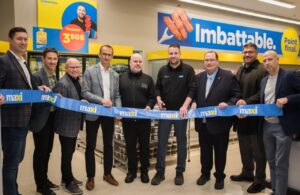 In addition, store manager Patrick Gauvreau highlighted the opening with a donation to help the community. Gauvreau donated $5,000 to the Centre de bénévolat et Moisson Laval (CBML), an organization whose goal is "to ensure the supply and fair redistribution of foodstuffs to organizations working in food security, and to individuals in difficulty," a press release specified.
Many people were already there yesterday for shopping, taking advantage of the new colours of the place and the staff on site, present to welcome the new customers.
"We're looking forward to see our customers, and are firmly believing they will discover this new store with enthusiasm," said Gauvreau.