Before you begin construction of your future terrace or pathway, you'll need to choose the flooring you're going to use. Stone, wood, concrete or composite – the choice is yours! Here are a few points to consider to help you find the right material.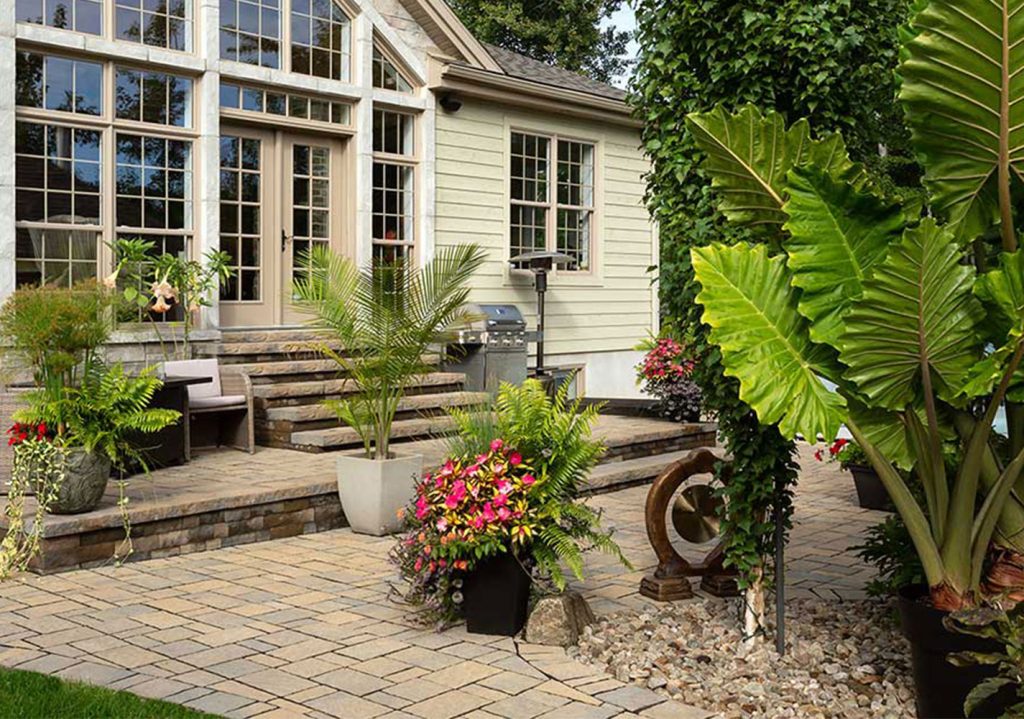 1. Your garden's style
Do you want a sleek, modern space? Or perhaps you prefer a more natural, rustic look? When choosing materials for your patio, be sure to take into account the overall style of your garden to create a harmonious space that reflects your image.
2. Your lifestyle habits
Think about how you intend to use your new layout. For example, if you like to walk barefoot on your terrace in summer, opt for softer, more comfortable materials such as wood or reconstituted stone slabs.
Floor tiles are also very pleasant, but can be rather slippery in the rain. If you opt for this material, remember to apply an anti-slip treatment to avoid any nasty falls! For garden pathways, you can opt for resistant, easy-to-maintain materials such as concrete or natural paving stones.
3. Durability
Pathways and terraces are subject to major climatic variations all year round. Make sure you choose a covering that can withstand the elements, temperature changes and daily wear and tear. Some popular, durable materials include natural stone, concrete pavers, treated wood and ceramic tiles. On the other hand, other materials such as natural wood are less resistant to the passage of time, and their visual appearance is bound to change somewhat, unless they receive a great deal of care and maintenance!
4. Maintenance
Let's talk about maintenance! It can be an important factor to consider, and some materials require more care than others. For example, wood surfaces require regular treatment to protect them from moisture and insects. Concrete pavers, on the other hand, require frequent cleaning to prevent the growth of weeds between the joints. Make sure you choose materials that suit your availability and your desire to maintain your outdoor space!
5. The environment
You can choose a green solution and go for sustainable, environmentally-friendly materials. Recycled concrete pavers, ethically quarried natural stone slabs and FSC-certified wood are excellent eco-friendly options! In addition, you can consider permeable paving so that rainwater can seep into the ground.
Finally, as you would expect, the materials you choose can greatly influence your landscaping budget. Don't hesitate to ask a landscaper for advice on the materials best suited to your needs and terrain, to create a space that's functional, aesthetically pleasing and long-lasting.