A new Aisle 24 (in French Marché Allée 24 ) should open its doors at Place Montmorency in the spring of 2023.
This new store concept will be located at 777 Le Corbusier Boulevard. The store will be open 24 hours a day, 7 days a week since no on-site employee is needed.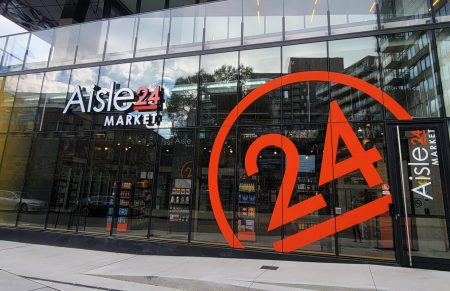 Customers simply need to install the mobile app on their smartphone and then create an account using a credit card and an ID. The same application will unlock the doors of the premises, then consumers can complete their purchases at one of the self-service checkouts.
Many products will be available to customers, including a variety of bread and muffins, milk, yogurt, butter, cheeses, ice cream, prepared sandwiches, prepared salads, bacon, fruits and vegetables, as well as sweets.
The markets of the Aisle 24 chain also offer some household products, such as soaps, tissues, toilet paper, cleansers, soaps, shampoos, personal health products and medicines.
Project delayed
The opening of Aisle 24 in Place Montmorency could have already taken place.
"Unfortunately, the condo project of the contractor Montoni [where the market will be located] has taken a lot of delay in their construction, which has a direct impact on us, specifies Jessika Venne, Quebec franchisee of the chain. We can't give a date, but we're hoping for spring 2023, May if all goes well!''
For clarification, the Laval branch will be 1,500 square feet in size and be located on the complex's ground floor. Many security cameras will be installed to ensure the security of the premises and avoid the risk of theft.
In addition, the restocking and cleaning of Aisle 24 is normally done a minimum of three times a week.