New Liberal deputy for Mille-Îles, Virginie Dufour, has been named official opposition spokesperson municipal affairs and housing.
Former municipal councillor for Sainte-Rose, responsible for issues related to the environment and urban planning during the two terms of Demers's administration, Dufour will also act as spokesperson for Laval's region for Quebec's Liberal Party (QLP).
During the last campaign, in the wake of the saga surrounding the Cité du Cinéma, Dufour had also pledged, should she win her place at the National Assembly, to do everything possible to amend the Act respecting elections and Referendums in Municipalities, especially Articles 546 and 553, in relation to the procedure for registering qualified voters.
Sona Lakhoyan Olivier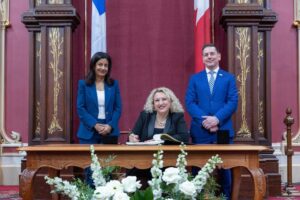 In addition, Sona Lakhoyan Olivier, deputy for Chomedey, was given, by the leader of the official opposition, Dominique Anglade, the function of Liberal spokesperson for the regions of Laurentides and Lanaudière, as well as for the tourism industry.
translated by Alec Brideau